02.09.17
CODAfeature
Spotlight on Commissioned Art
by our Profile Members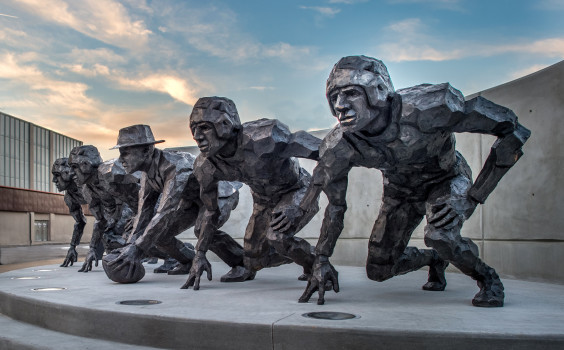 NFL Draft, 1936 by Folwell Studios
Gail Folwell of Folwell Studios created this impressive piece of historical narrative in collaboration with Artworks Foundry. It is a stunning tribute to player, coach, owner and commissioner of football, Bert Bell. Read more.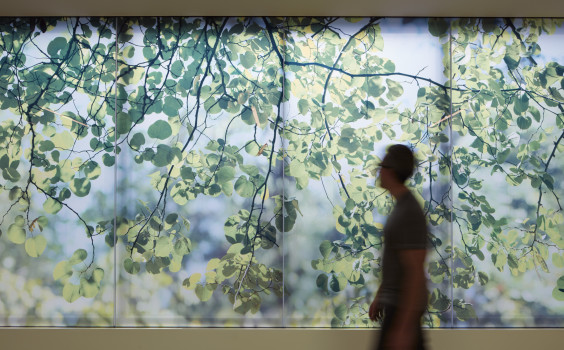 Redbud Redux Suite by Stephen Galloway
This restorative project was created by Stephen Galloway for San Francisco General Hospital. The work includes design and fabrication of art glass to enhance the therapeutic intent of the space. The compositions incorporate photographs of California's native shrub, the Western Redbud, creating a sense of peace and well-being. Read more.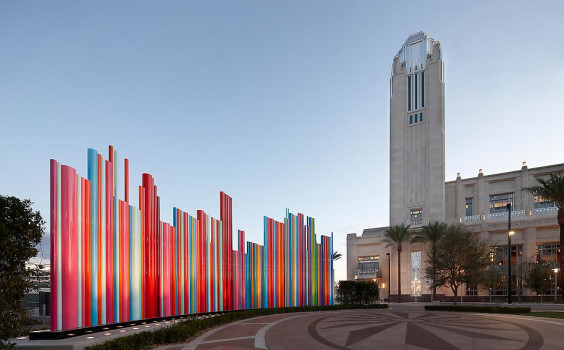 Tim Bavington Smith Center Installation by Moore Fine Art
The Smith Center for Performing Arts Center in Las Vegas is the home of this magnificent installation piece by Tim Bavington. Art consultant Mark Moore of Moore Fine Art acted as a liaison between artist, fabricator, and advisory board - which worked in tandem to achieve a project that was visually exciting and sound in engineering design. Read more.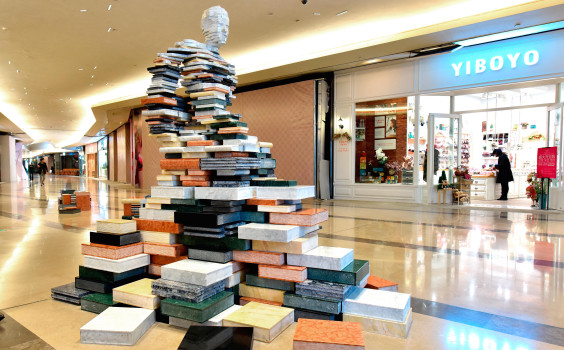 Written In Stone by POLO Bourieau
These scholarly sculptures, which grace a metro entrance in Chengdu, China, was created by artist POLO Bourieau of Hong Kong. He states, "The sculptures are in stone because stone just as books, owns our memories." Read more.
Featured Content sponsored
Redefining the Public Artist: Franz Mayer of Munich Architectural Glass and Mosaics
In the heart of Bavaria's capital city lies the Kunstareal, the museum quarter, home to some of Germany's most famous museums, massive stone and glass buildings showcasing world-class collections of art, sculpture, and artifacts from centuries past. But travel just a short way down the tree-lined Seidlstrasse in that same quarter of Munich, and you'll find a place dedicated not to commemorating artwork from the past, but constructing it for its future.
Built in 1923, the building that houses world-renowned architectural art glass and mosaic studio Franz Mayer of Munich is an impressive one, utilitarian in construction, its interior abuzz with the kind of activity that comes from imagination and collaboration, tools and technology...
Read Full Article
Holden Heights Community Center by Stephanie Gassman
When you walk into the Holden Heights Community Center in Orlando, FL, you're welcomed by this colorful wood relief piece. For artist Stephanie Gassman, the goal was to create art that represented the diverse community and instilling a "pride of place" for the residents. Read more.


Wondering how to connect with other professionals who work on commissioned art projects? Simply message CODAworx members directly. Pitch a potential collaboration, ask a question, or express your interest in their work. Become an active part of our online community and gain new professional opportunities!

About CODAworx. CODAworx is the place where all members of the design + art community
come together to share their work, communicate their ideas, and expand their professional networks.